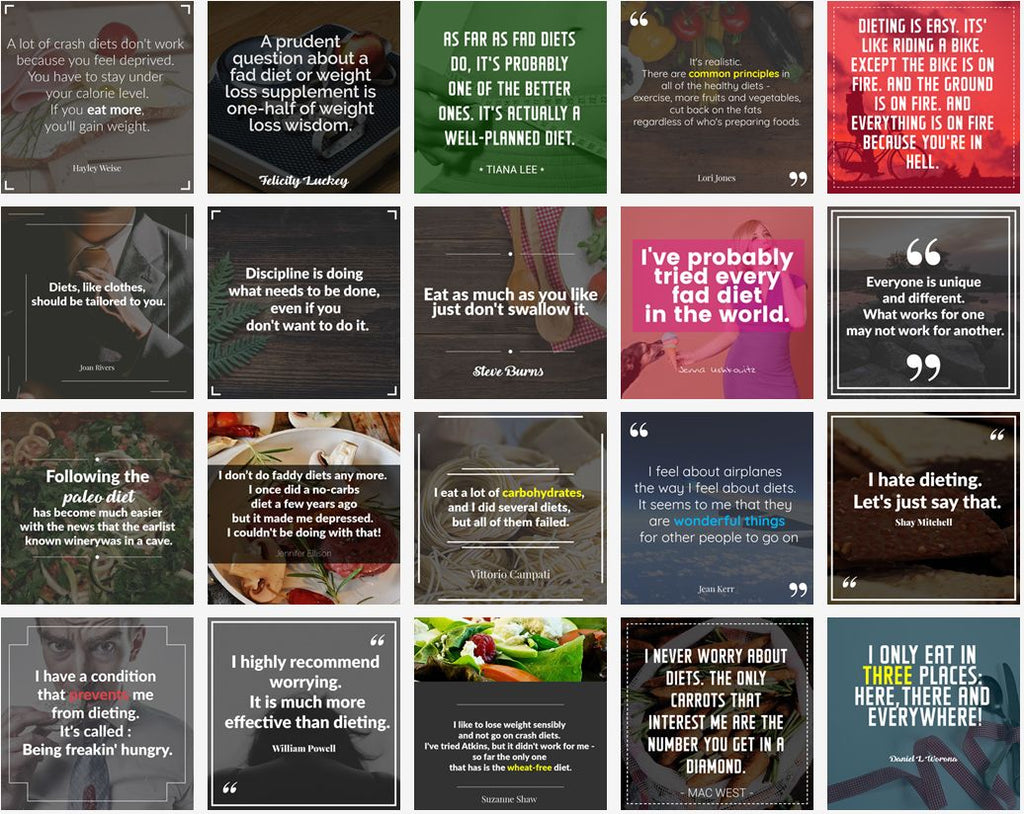 100 Healthy Dieting Social Posters
Have you ever wondered what it is about dieting…
People will jump on any fad. They'll shell out hundreds of dollars to any "expert" to learn some secret that sometimes they already know.
When someone hears of a new dieting tip, even a one-liner, they are incredibly grateful.
Good tips are truly hard to come by, and it's this kind of thing that spreads easy.
Especially when it's on a quote poster with an inspiring image behind it. Talk about viral potential!
Just imagine if you could somehow harness that energy, and use it to promote your business.
Well, you don't have to imagine anymore, because now you can.
You can capture people's innate desire to spread good diet and nutrition tips, and every time they do, your brand logo and link will follow the tip.
All you need is a great quote poster with the tip built into it.
A picture designed to inspire, and tested for share-worthiness, and a quote that will grip the casual Internet reader, and prompt them to spread the word.
But how exactly do you even do that?
Companies spend millions of dollars on psychological research to figure out what spreads and what doesn't.
You could read a million books on the topic, but that could take months or years, and leave you digesting information forever.
You could hire an awesome graphic designer, and a nutritionist, and get them to boil all the best information and inspiration while doing the reading and research for you.
Or, you can work off the backs of people who have already done it.
On the page below, you'll find 100 inspiring photos about dieting, designed to spread, and cultivated from the best practices of growth hacking experts.
With the package, you will also get the original PSD files included, so you can brand them any way you like.
Add a logo and a link, and share the post. That's it!
It's so simple you might be expecting to pay tens of thousands of dollars for the included information.
Lucky for you, we like doing this, and we aren't going to empty your wallet to make this an option for you.
Check below, get all the information, and browse some sample pictures.
Each one is designed for one purpose: get them to click the share button.
As you spread the good word, you'll also be spreading your business. It doesn't matter what niche you are in, or what your content is about.
You don't need to sell inspiration in order to make it spread.
You may have seen other companies doing the same thing, and now it's your turn to get a piece of that tasty pie.
Learn more by checking out the image previews on the page below.
Everything you NEED to get started today is right there. What are you waiting for?
---